"Science is a way of thinking much more than it is a body of knowledge." – Carl Sagan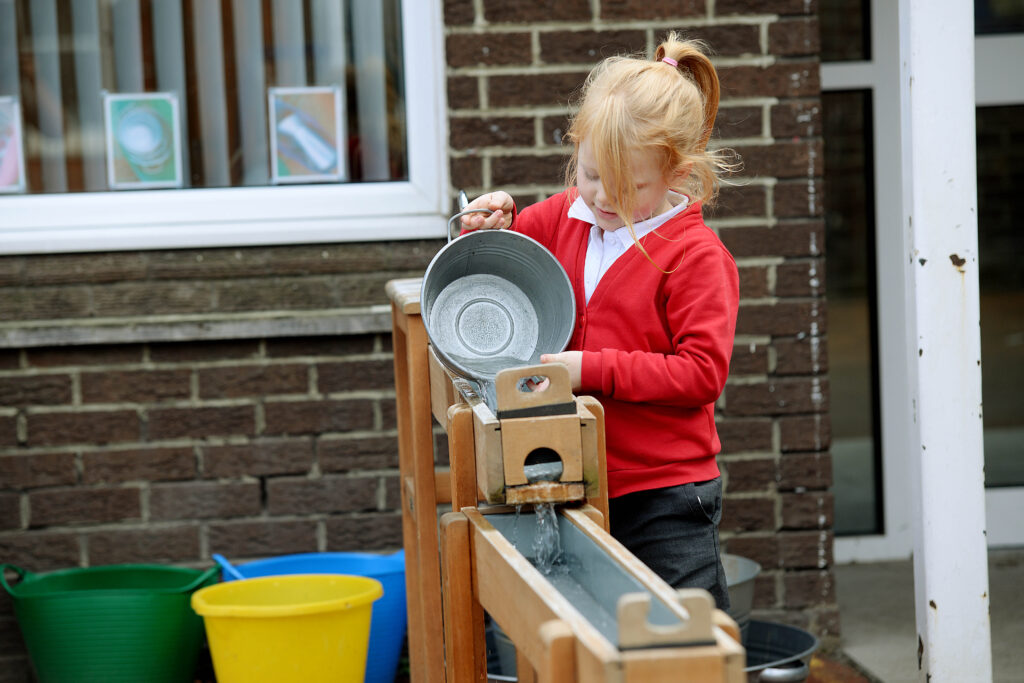 At Abingdon Primary School and Children's Centre, we are committed to the delivery of an ambitious science curriculum which will sequentially build children's conceptual understanding, knowledge and specialist vocabulary through the specific disciplines of biology, chemistry and physics. By consistently building on children's prior knowledge and experiences, children will know more and remember more, reinforcing and further-developing their understanding of the nature, processes and methods of science and working scientifically. This will enable children to answer scientific questions about the world around them, to recognise the power of rational explanation and make meaningful connections in the wider-curriculum, igniting a life-long curiosity about natural phenomena and the world around them. Through our diverse curriculum and with the support of assets within our community, we will ensure that children are equipped to understand how major scientific ideas have contributed to change and the uses and implications of this learning in the ever-changing landscape of the 21st Century world while introducing them to a range of diverse, relevant and inspirational scientists, representing our school community.
Science Long Term Map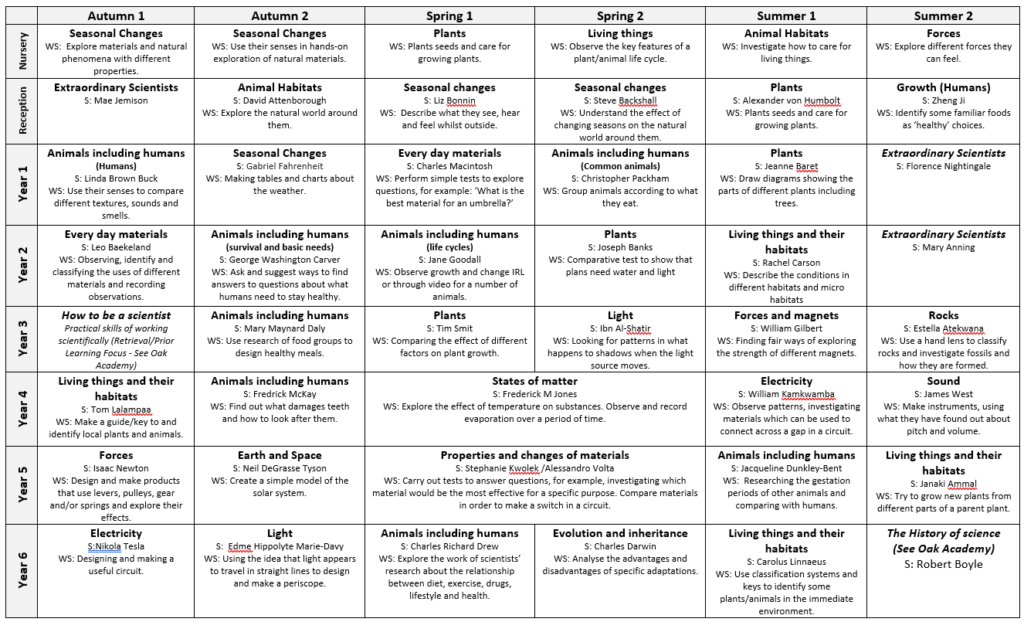 We are particularly keen to expose our children to a range of inspirational, diverse scientists and have mapped these in relation to the knowledge and scientific enquiry within each subject.
Abingdon's Extraordinary Scientists
| | |
| --- | --- |
| Mae Jemison | NASA astronaut, first black woman in space (1992) |
| David Attenborough | Wildlife filmmaker and naturalist, studying animals and their behaviour. |
| Liz Bonnin | Science, natural history and environmental broadcaster (Countryfile/Autumn Watch). Wild Animal Biologist. |
| Steve Backshall | Bio scientist, naturalist and explorer. Presenter of Deadly 60. |
| Alexander von Humbolt | Botanist and adventurer who became interested in growing and collecting in his youth. |
| Zheng Ji | World's oldest professor (lived to 110 years) and founder of modern nutrition science in China. |
| Linda Brown Buck | Discovered how the sense of smell works |
| Gabriel Fahrenheit | Invented the thermometer |
| Charles Macintosh | Invented waterproof fabric |
| Christopher Packham | Zoologist, wildlife conservationist and broadcaster (Spring Watch/Really Wild show) |
| Jeanne Baret | Famous botanist, became the first woman to circumnavigate the world disguised as a man, discovered over 6,000 plant species. |
| Florence Nightingale | Health pioneer for sanitary reforms. |
| Leo Baekeland | Invented first plastic 'Bakelite' in 1907. |
| George Washington Carver | Agricultural/ botanist- researched farming techniques, crops and soil to discover a technique to keep farmers' soil full of nutrients and improve poor southern farmers' diets and crops. |
| Jane Goodall | Chimpanzee expert through observation, compared their behaviours to humans |
| Joseph Banks | Botanist with James Cook, discovered/documented many plants in Australia |
| Rachel Carson | Studied ocean habitats and the effects of pollution. |
| Mary Anning | Discovered first complete specimen of a plesiosaur, deduced the diet of dinosaurs. |
| Mary Maynard Daly | Discovered impact of food and diet on health of heart and circulatory system. |
| William Gilbert | Investigated the phenomenon of magnetism systematically using scientific methods and discovered that the Earth is a weak magnet. |
| Tim Smit | Founder of Eden Project, two biomes creating eco-climates to grow rainforest and Mediterranean plants in UK |
| Ibn Al-Shatir | Invented horizontal sundial to find the time for prayers. |
| Estella Atekwana | Was told girls shouldn't study geology, went on to research |
| Tom Lalampaa | Modern Kenyan conservationist |
| Fredrick McKay | Invented fluoride toothpaste |
| Frederick M Jones | Developed refrigeration systems for long-haul vehicles and ships |
| William Kamkwamba | Built a wind turbine from recycled parts to serve community in Mawali aged 14, invented solar powered water pump |
| James West | Acoustician and co-inventor of the foil electret microphone used in most telephones, hearing aids etc. |
| Isaac Newton | Discovered gravity |
| Neil DeGrasse Tyson | Pluto debate, Director of Hayden Planetarium |
| Stephanie Kwolek | Created a lightweight plastic 5x stronger than steel (Kevlar) used in police uniforms to make bulletproof etc |
| Alessandro Volta | Invented first electronic circuit and battery |
| Jacqueline Dunkley-Bent | Head of maternity, children and young people for NHS. Midwife famous for pioneering work to improve care for critically ill new-borns. |
| Janaki Ammal | Plant reproduction, developed sweetness in sugarcane |
| Nikola Tesla | Modern Alternating Current (AC) electricity system |
| Edme Hippolyte Marie-Davy | Developed first naval periscope |
| Charles Richard Drew | Researcher in blood transfusions, developed blood banks WW2 |
| Charles Darwin | Natural selection/ Theory of evolution |
| Carolus Linnaeus | Inventor of modern scientific classification in the animal kingdom |
| Robert Boyle | Largely regarded as first modern chemist. |
Please follow the link to the National Curriculm programme of study which we follow. https://www.gov.uk/government/publications/national-curriculum-in-england-science-programmes-of-study/national-curriculum-in-england-science-programmes-of-study