"Intelligence and skill can only function at the peak of their capacity when the body is healthy and strong."  John F. Kennedy
At Abingdon Primary, we recognise the importance of Physical Education to a child's physical, cognitive, social and emotional development as well as the role it can play in a child's spiritual, moral and cultural development. We are committed to supporting the health and wellbeing of our children and understand the impact physical activity and sport has on this.
We aim to provide a broad and balanced P.E. curriculum to help develop the children's physical literacy and core movement skills. A balance of individual, team, co-operative and competitive activities aims to cater for individual pupil's needs and abilities.
Our curriculum is based on progressive learning objectives, which together with flexible teaching styles; provide stimulating, challenging and enjoyable learning situations for all pupils. The curriculum aims to promote an understanding of the many benefits of exercise, through a balanced range of activities. Our school values of aspiration, resilience, commitment and harmony are key elements that teachers promote when teaching PE sessions.
In addition to the importance placed on PE lessons we also have a wider curriculum offer which includes the opportunities for pupils to take part in extra-curricular sports, activity clubs and competitions. Daily physical activity and health enhancing activities play a crucial role in our offer to pupils including active lessons, active break and lunchtimes and extra-curricular activities.
"Exercise and recreation are as necessary as reading."  Thomas Jefferson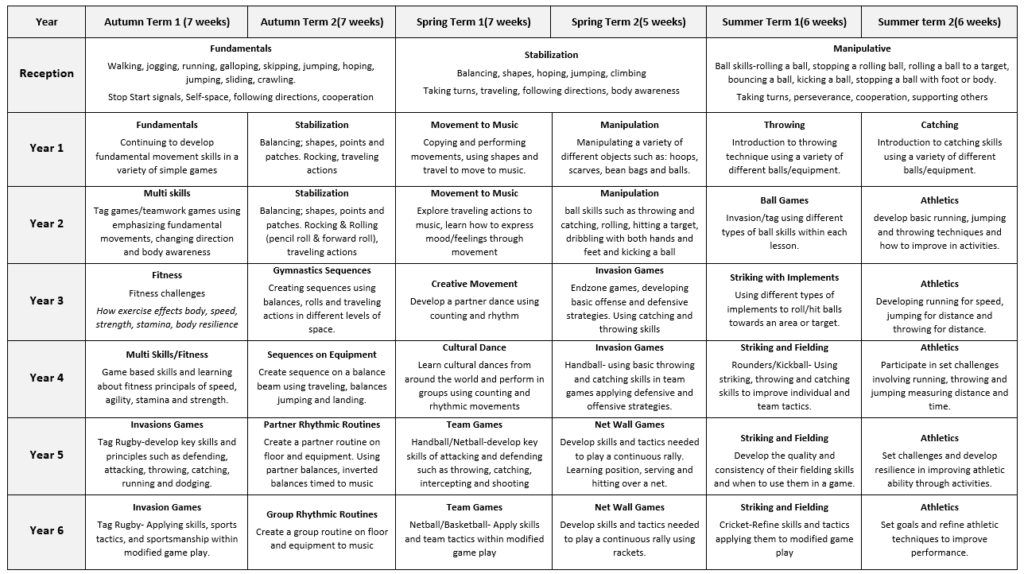 Please find the link to the Physical Education programme of study https://assets.publishing.service.gov.uk/government/uploads/system/uploads/attachment_data/file/239040/PRIMARY_national_curriculum_-_Physical_education.pdf