At Abingdon, we want all our children to have a love and understanding of mathematics. Our children will leave with the resilience and commitment to be fluent with in the subject and be able to reason and problems solve. Maths at Abingdon enables children to understand and appreciate relationships and patterns in both number and space in their everyday lives. We believe this interconnected discipline should provide a foundation for understanding the world and give children the oracy skills to develop their own individual curiosity.
We deliver White Rose lessons that are creative and engaging with a focus on vocabulary and practical resources so children can develop fluency, mathematical reasoning and competence in solving increasingly sophisticated real life problems. Within each unit, the children will use Stem Sentences to help with their vocabulary and understanding. The children will also use talk partners with in lessons to encourage reasoning and deeper thinking and play games to encourage even more dialogue. As our pupils progress, we intend for them to be able to understand the world, have the ability to reason mathematically, have an appreciation of the beauty and power of mathematics and a sense of enjoyment and curiosity about the subject.
We are excited to use a Mastery approach to teaching Maths across our school. We primarily use the White Rose Maths schedule and resources, however lessons are adapted to support the needs of the children and enable all to be successful and access their learning. During daily maths lessons, pupils are encouraged to ask as well as answer mathematics questions. They have the opportunity to use a wide range of resources, such as number lines, place value counters and charts, number squares, digit cards, part-part whole models, tens frames and other small apparatus to support their work.
Mathematics Long Term Plan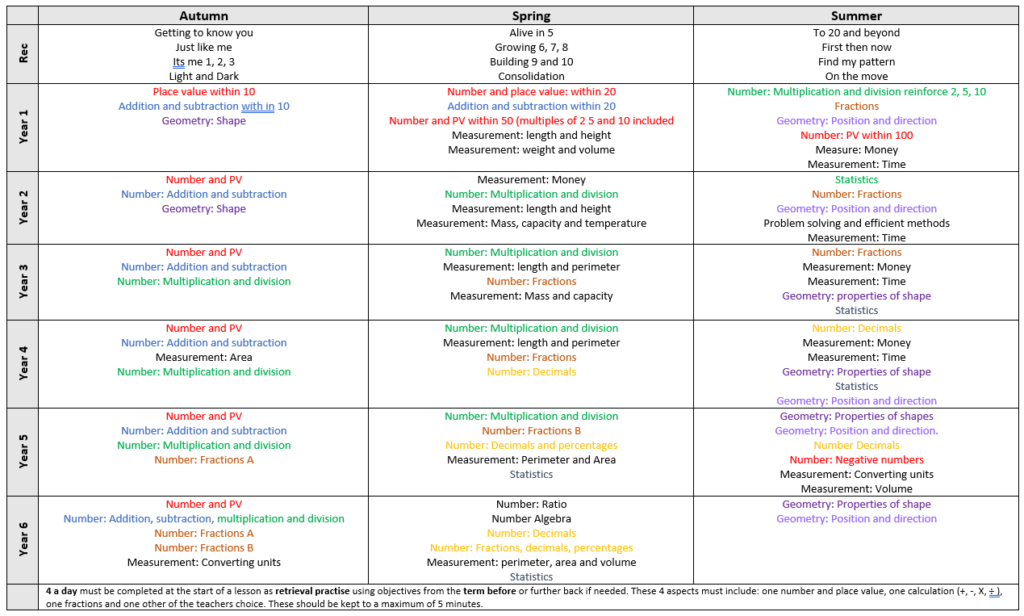 Please find the link to the National Curriculum programme of study https://www.gov.uk/government/publications/national-curriculum-in-england-mathematics-programmes-of-study/national-curriculum-in-england-mathematics-programmes-of-study#key-stage-1—years-1-and-2