Our Team
International New Arrivals
At Abingdon Primary School we have a dedicated team of staff who support pupils learning English as an Additional Language (EAL), including those pupils who may have only recently arrived in the country.
Miss Collins is the EAL coordinator in the school and is also an SLE (Specialist Leader of Education) for EAL within the local authority.
Up to Year 2, International New Arrivals (INAs) integrate into the mainstream classes. From Year 3, INAs either filter into mainstream classes, or enter one of two Language and Learning Hubs taught by Miss Eastwood and Mrs Khelifi in which Mrs Thomas, Miss Nolan and Mrs Ghafoor are the Teaching Assistants. These smaller classes aid children who are new to the country should they need some targeted support to close the gaps with their peers. In these classes, children's education focuses on the development of the English language and also on teaching the skills pupils need in order to access mainstream classes. The aim is to fully equip the children as fast as possible so that they can then smoothly integrate into classes with their peers.
The INA pupil intake is diverse with some children having never had any formal education; others have had some schooling but their experience maybe very different to that in England. The amount of time children stay in the hubs classes varies dramatically according to the child.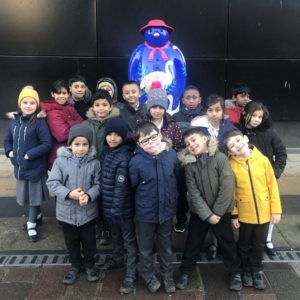 EAL in the mainstream classes
In Abingdon Primary School, approximately 90% of the pupil intake is EAL, although many of the children are British born. Despite being mostly fluent in the English language, many pupils' lack the breadth of vocabulary to coherently access the curriculum at all times, and don't have the grammatical fluency expected for their age. Higher tier vocabulary development and grammar precision is a focus for teaching across the school.
Mrs Bashir is our Parent Support Advisor (PSA). She helps our parents in any way she can!
Celebrating Diversity
We constantly strive to celebrate the diversity in our school; there are over 40 languages spoken here! Furthermore, we were proud to be given the very first 'School of Sanctuary' status in the whole of the Tees Valley. Everyone is welcome at our school. We do two food collections each year: one during Harvest time, and the other to coincide with Refugee week in June. These donations are given to a local charity, The Mary Thompson Fund, or to The Red Cross.
Click here to find out more! https://schools.cityofsanctuary.org/