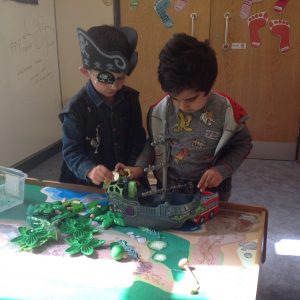 Thank you for visiting our Nursery page. We hope you enjoy looking around.
Our Topic
We will start this term with the topic 'How many colours in a rainbow'. We will be reading books such as 'Handa's Surprise', 'The Day the Crayons Quit' and 'Wow! Said the Owl'. The children will have the opportunity to explore colour and how colours can change. We will begin by looking at colours of the rainbow and move onto winter colours which will lead us nicely into the Christmas celebrations!
Upcoming Events
This term includes the run up to Christmas! Our nursery children will be joining in with the festive celebrations by having a Christmas Party where they will have the chance to meet Father Christmas! This will take place on Thursday 21st December which will also be the last day of term. Children will then break up for Christmas holidays.
Homework
There is no formal homework in Nursery, however, please continue to borrow books from our Self Select Bookcase to read regularly to your child. Also, feel free to borrow from our Games Library. If you would like any further information or activities to do with your child do not hesitate to speak to any of the Nursery Staff.
We have added copies of some of the nursery rhymes we have been learning to the parent notice board in the cloakroom area. Please help yourselves and practise them at home too.
Resources
In Nursery we use lots of resources to help with the children's learning. Some of the webpages that we use, the children can use at home. Below, you will find links to the webpages:
News
We try to encourage our children to become toilet trained as soon as possible. We will work our hardest with parents to toilet train the children. If you need any advice, please don't hesitate to ask us.
If you have a smart phone you can now get the Abingdon Primary School App. With this App, you will be able to receive instant notifications from the nursery department directly, and from the school office, to help ensure you are up-to-date with all important information.
Click HERE to view our curriculum overview!
Our Gallery
Letters Home
To get out regularly uploaded Letters home. Simply select the button below.