Eco Schools
Eco Schools is the largest sustainable schools programme in the world and is designed to encourage a whole-school action on sustainable development and education issues. It is an environmental management tool, a learning resource and a recognised award scheme who tackle issues that are brought to them relating to the school and local environment.
At Abingdon we have a strong Eco Council who meet every Thursday afterschool to discuss environmental issues in the area including in school. At the start of the year, Eco Club came up with our Eco Code. This is a code thought of by the children to help everyone at Abingdon be Eco friendly.
We then received a letter from Mr Cooper asking for help. He was concerned by the amount of waste we were creating as a school. Eco club took it upon themselves to help by reviewing our school and the amount of waste we create. The results were shocking as we found that the school did not recycle paper at all! Eco Council soon set into action by emailing Middleborough Council asking for their own paper recycling bin. It was then up to Eco Council to think how the whole school could get involved and help to recycle the paper we use. They came up with a system whereby all staff and children can put their waste paper in a 'Green Box' which Eco Council will come and empty every two days. Middleborough council will then come and empty the bin for us.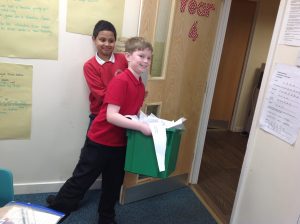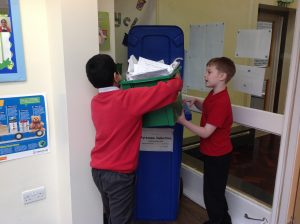 Waste Week
During the beginning of March the whole school took part in Waste Week. Every class looked at a different topic and learnt about how we can all work together to reduce our waste. Children took part in litter picks, designed their own energy saving cars and even designed hedgehog houses.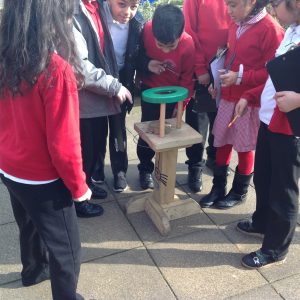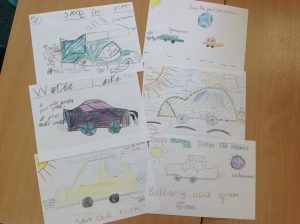 Currently Eco Council are working on reducing our food waste in school by introducing compost bins in the staff rooms and a large compost bin in the playground. Two members of Eco council empty this bin every day.
Over the next few weeks we are hoping to improve the Biodiversity of our school by getting new plants and flowers around school and even introducing a new hedgehog house! Keep looking out for updates.
It is really important for the Eco Schools to get the whole school community involved in sustaining our local environment and we would like to thank you for your support.
Click HERE to view our ECO School Code!